Chapter 3 – The Wrestling Dogs of Montmartre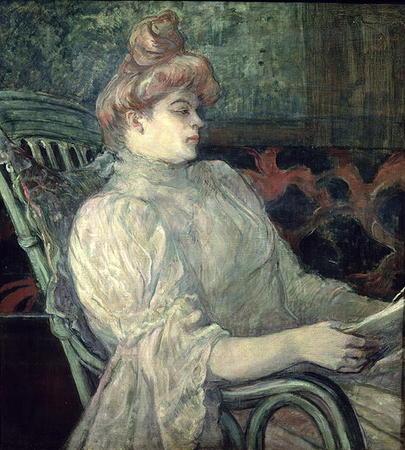 "She was a stout, wide-bottomed woman who wore her chestnut hair up in a loose chignon that trailed tendrils that were either born of weariness or were simply attempting escape." In this painting by Toulouse-Lautrec you see a "chignon", a hairstyle that was wildly popular in France at the time, probably due to the fascination all over Europe with Asian art and designs.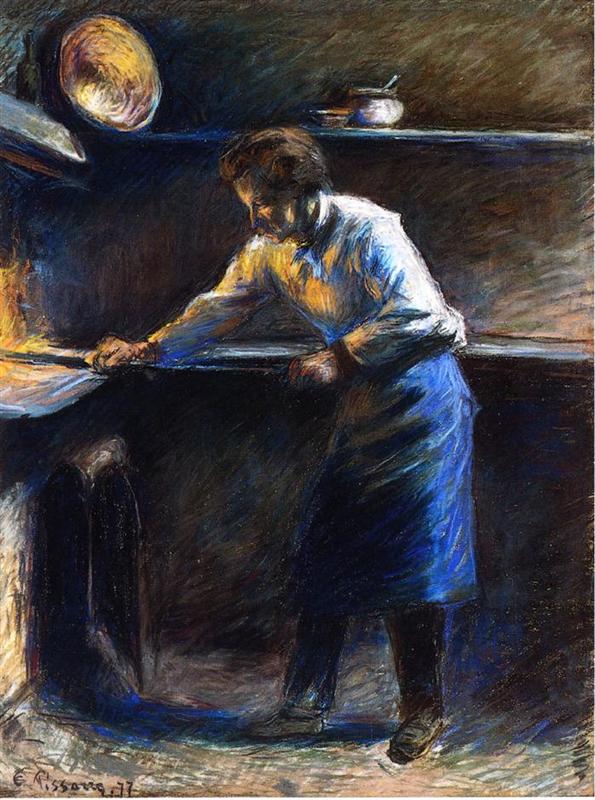 "I am a baker. My father was a baker, and his father before him. Our family has fed the people of the butte for two hundred years. I have smelled of yeast and breathed the dust of flour my whole life." Père Lessard is based on this man, Eugene Murer, who was, indeed, a friend of the Impressionists, and did raffle off one of Pissarro's painting, as well as perpetrate other shenanigans that I portray later in the book. Here he's shown at his pastry oven, in a painting by Pissarro.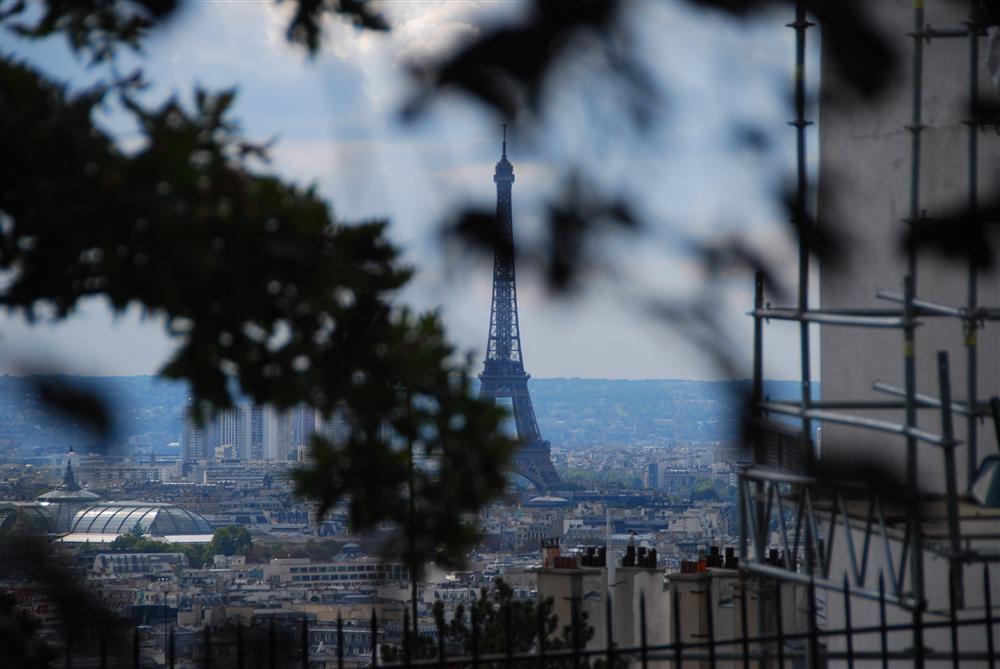 This is the view today from the iron fence at the edge of the Place du Tertre, looking toward the Eiffel Tower. The tower was still 15 or so years away in 1873, when Lucien and Pere Lessard were looking out over Paris, but I didn't have a picture from Montemartre looking toward the Louvre. Oops. I didn't know I was going to write the scene when I was there.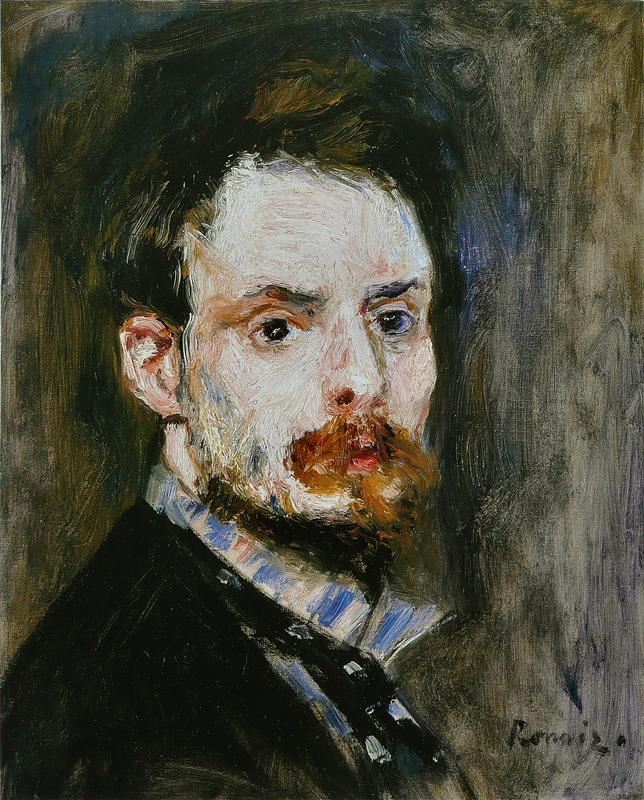 "This is why no one likes you, Lucien," said Renoir. "You probably have small hands because you have syphilis." Self-portrait of
Pierre-August Renoir
1875, a couple of years after the scene with Lucien.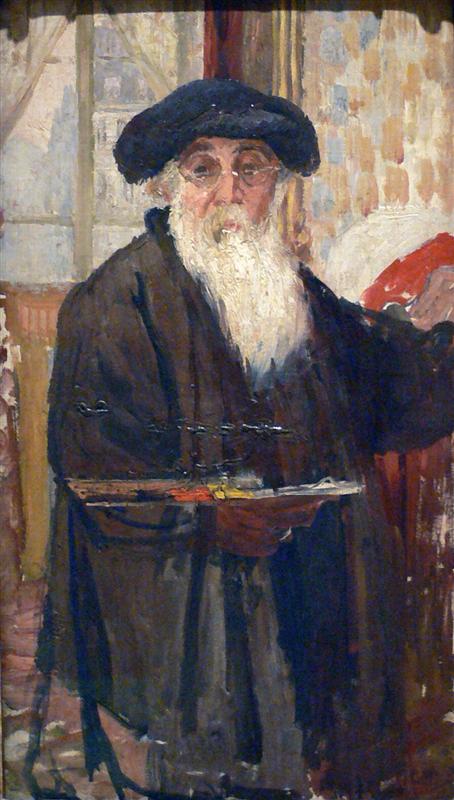 "He was a bald, hawk-nosed Jew with a wild, graying beard and fringe; a theorist and anarchist who spoke French with a lilting Caribbean accent, he could argue fiercely in the bakery or café with his artist friends one minute, then give his last sou to them for bread, coal, and color the next." Self-Portrait, Camille Pissarro, 1885
This portrait is some years after the scene, but it's my favorite of Pissarro. I like how he is clearly painting this picture in a mirror, and we can see the concentration about which he's going about his work.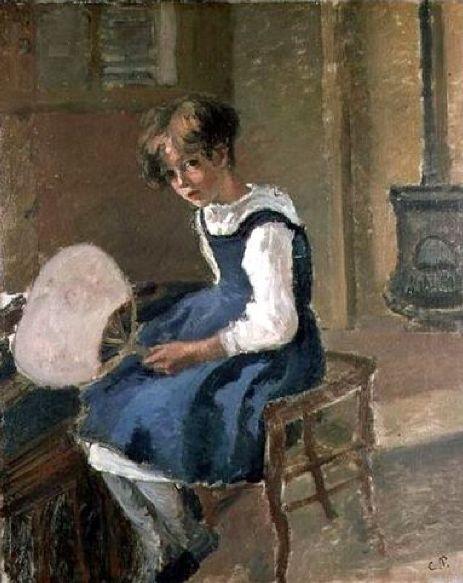 "Minette was petite, and pretty, and could throw a rock as well as any boy. She inspired a love in Lucien so profound that it made him nearly breathless with the need to pull her hair and profess her passionate cooties to the world" Portrait of Jean-Michelle Pissarro (called Minette)- Camille Pissaro 1873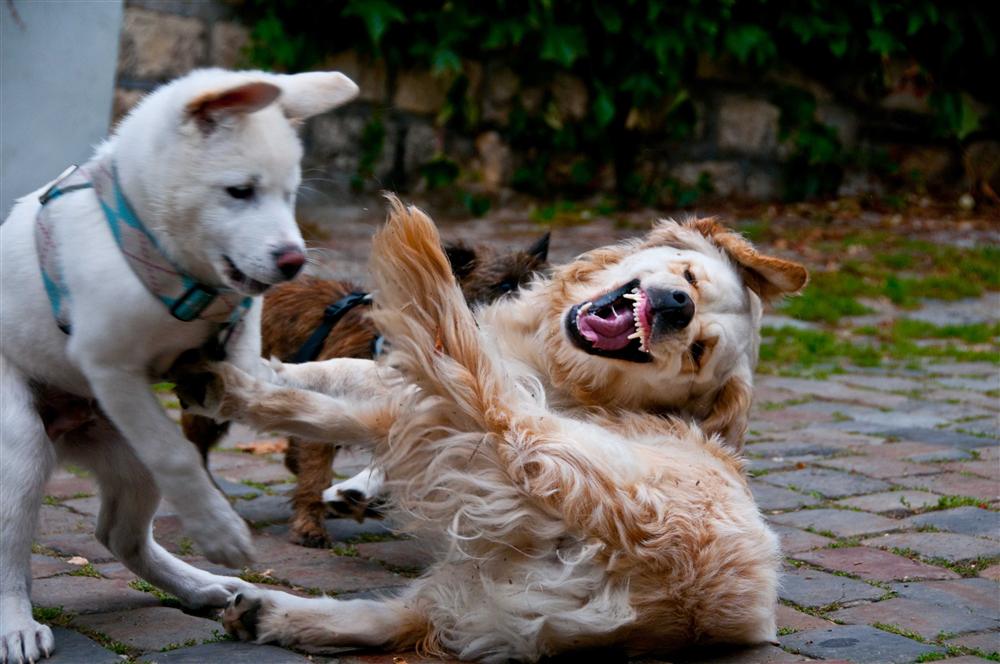 The fighting dogs of Montmartre. Actually, Lucien's dogs were not fighting, and despite the fierce display of teeth, neither are these two. Just playing. I took this in 2009 on the Butte, as we were about to head down the stairs to Place Pigalle.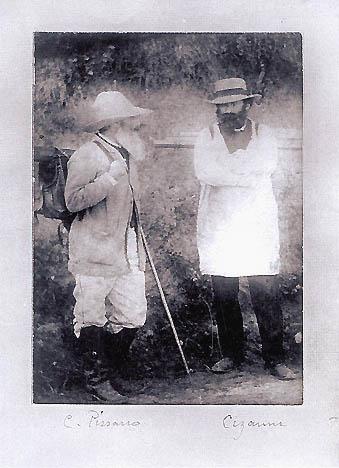 "It will hang next to a Cézanne. I believe he has an affinity for wrestling dogs."
Photo of Camille Pissarro and
Paul Cezanne
1873 – Note that even in the year of the scene when Pissarro is only in his early 40s, his beard has gone white. Pissarro and Cezanne often painted together in
Auvers
and
Pontoise,
small towns just north of Paris. Cezanne, from
Aix
in
Provence,
Southern France,did not like the city.
Lucien watched his father watch the sunrise break the horizon, turning the river Seine into a bright copper-colored ribbon across Paris.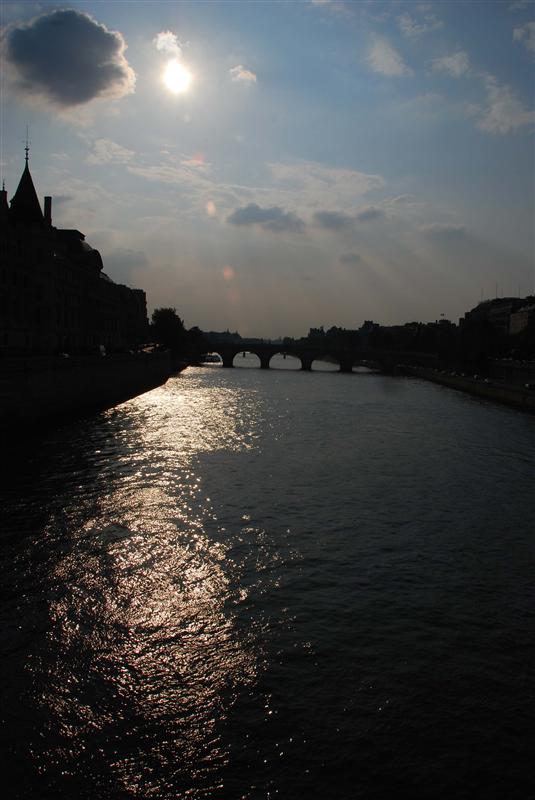 I actually don't remember if I took this in the morning or the evening, but let's say it's morning.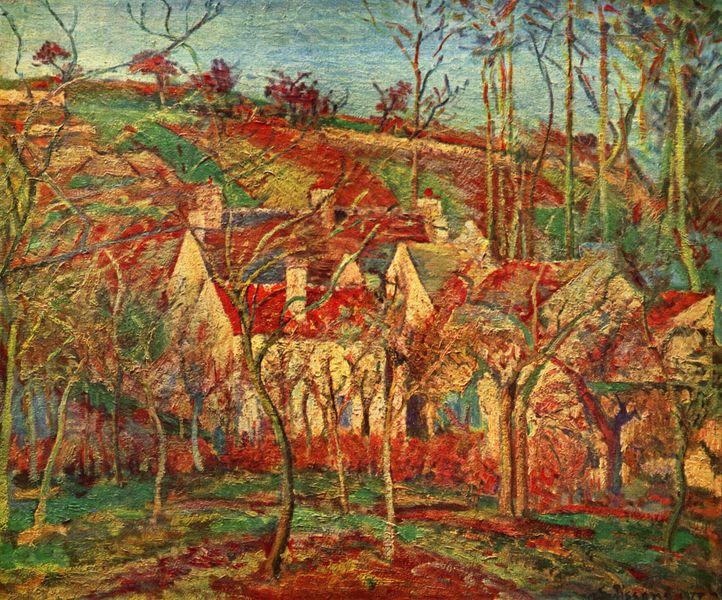 "An hour later the ticket had been tacked up on the wall under Pissarro's painting, a small landscape looking down from a hill in Auvers-sur-Oise, portraying the red tile roofs and the river below." Red Tile Roofs – Camille Pissarro Well, I was imagining the painting when I wrote that line, so there's no, "river down below", but these are the red tile roofs in Auvers.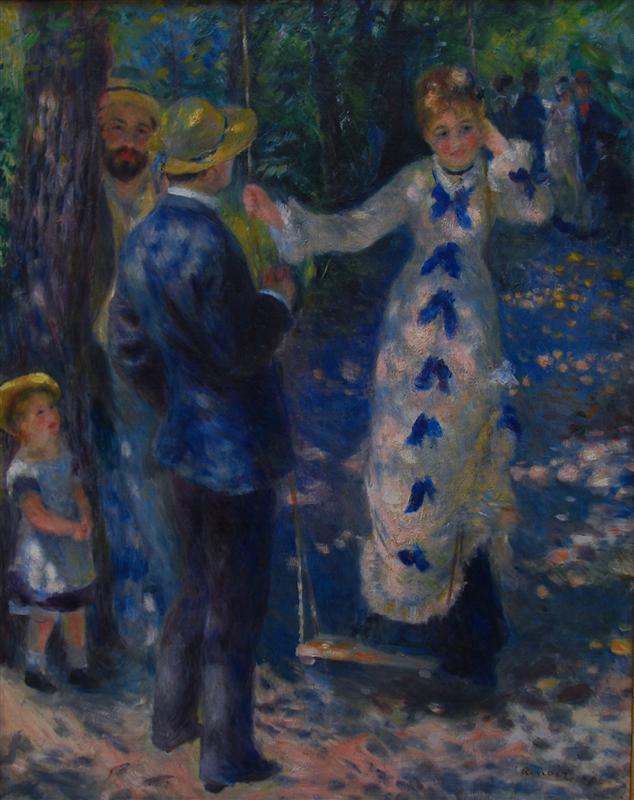 She couldn't have been more than fifteen or sixteen, a delicate thing in a white dress with puffy sleeves and great ultramarine bows all down its front and at the cuffs.
The Swing – Renoir
The bows on this dress are most definitely ultramarine blue, and so strikingly so that this had to be the girl that won Pissaro's painting. She will also figure largely in Renoir's life in the story, but that's for later on.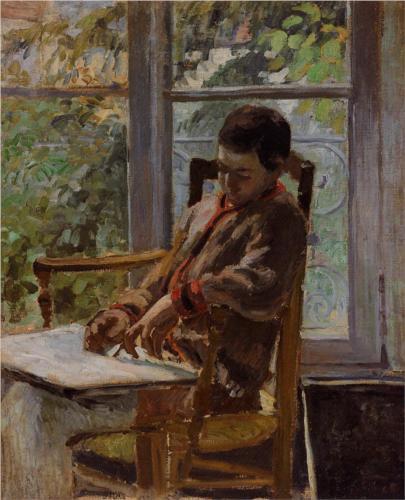 "Look at this one," she said. "Oh, these eyes, so dark, so mysterious. Oh, Monsieur Pissarro, you should paint a portrait of this one and his deep eyes."
Although I hadn't seen any of the portraits of him at the time, I have to admit that Lucien Lessard is based on
Lucien Pissarro
, his name and age are exactly the same.When I was looking for an appropriate name for the main character I had a whole list of French names, first and last, and for some reason, "Lucien" had to be it.  Convienently, Lucien Pissarro was also a painter, and studied with Toulouse-Lautrec and Vincent, so there are a few of these portraits of him working on his art.
Lucien Pissarro in an Interior– Camille Pissarro